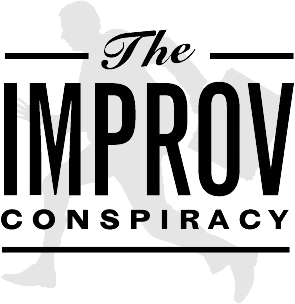 The Improv Conspiracy Theatre
is Melbourne's home of Chicago-style improv & sketch comedy. We offer
four nights of shows
every week, plus a
public workshops program
that will help you fall in love with improv and write your first sketches.
Monday
December 11
Tuesday
December 12
Wednesday
December 13
Thursday
December 14
Friday
December 15
Saturday
December 16
Sunday
December 17

-

-

-

7:00pm

7:45pm

A.I. Baby/Fuggtown/Cousins/The Sirens

10:15pm

Closing Night

7:00pm

8:15pm

9:30pm

Theatre Closed

5:00pm

6:00pm

7:15pm

8:30pm

Matthew Vasquez/ Homecoming/ Sinkhole
Run from our brand new training centre and theatre in the Melbourne CBD, our public workshops program is the largest of its kind in the southern hemisphere. Over 1000 students have trained with us over the past few years... now it's your turn! You'll learn to improvise in a safe, supportive and hilarious environment before performing in front of friends and family during your end-of-term showcase.
What They're Saying
More and more hysterical as the show progressed.

The standard of acting and comedy was brilliant ... do yourself a favour and go see these guys.

Kangas has done an excellent job of training up his improv troops.

The Improv Conspiracy and The Harold provide an evening of both well-grounded and lighter-than-air performance that is exciting to watch.

The crew work together intuitively and are consistently funny ... with such a strong group of performers, you're not going to be disappointed.

★★★★ - These guys make improv an art form.

Watching these guys improvise is like watching an Escher drawing.